Salt Free Ways To Spice Up Your Meals

Salt is a naturally occurring mineral, it's everywhere and we can't live without it. However, most North Americans consume much more than they need. Fast food, junk food like chips, and most frozen and prepackaged foods are loaded with added salt. Here are some salt-free ways to spice up your meals without picking up the salt shaker!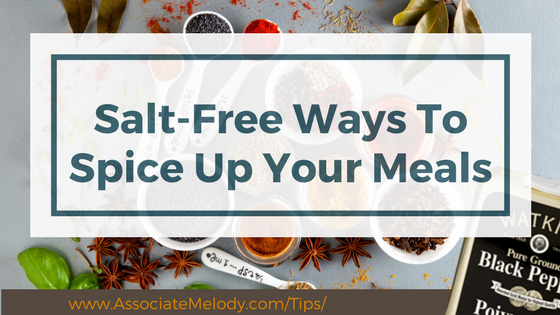 Reach for the pepper. Black pepper adds zing to everything from steaks to mashed potatoes.
Instead of pre-made garlic bread which is often flavored with garlic salt, buy a plain loaf of Italian bread, toast under the broiler and rub with a head of garlic roasted and cut in half.
Add herbs. Try rosemary with lamb or pork, basil and oregano with chicken or pasta, dill with fish and eggs, and lemongrass with fish or Asian dishes.
Think citrus! A splash of lemon, lime, or orange juice adds a tropical flavor to fish,
chicken, and vegetable dishes.
Hot stuff! Don't shy away from the hot sauce. A few drops of this peppery blend can liven up everything from eggs to pasta.
Liven up Seafood. For a quick and tasty seafood seasoning, try mixing dill, chives, dried lemon peel, and garlic powder together for a tasty salt alternative.
Try a zesty salsa! Mix together three chopped tomatoes, one onion three garlic cloves, 4 jalapenos, a 1/2 cup chopped cilantro, the juice of one lime, black pepper to taste, and a half teaspoon sugar. Serve with pork, beef, eggs, or chicken.
Sauce it up. For a fabulous salt-free barbecue sauce, chop an onion and saute in a skillet until translucent. Add 2 cups salt-free tomato sauce, 1/4 cup molasses, 1/2 cup cider vinegar, 1/2 cup Dijon mustard, the juice of one lemon, 1 teaspoon Liquid Smoke, 3 cloves of chopped garlic, 1/2 teaspoon of Tabasco sauce and 1/4 teaspoon cayenne pepper. Mix thoroughly and simmer 15 minutes or until thickened.
Salt-free doesn't have to mean flavor free. Try the tasty ideas above and don't be afraid to experiment with your own combinations of herbs and spices. You'll find more tips and ideas on how to cook with herbs and spices here. The possibilities for salt-free ways to spice up your meals are endless and delicious!
No Comments Yet.