Stained Glass Cookies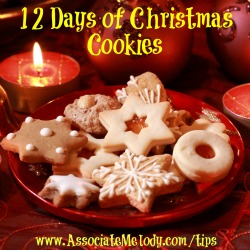 Stained Glass or Magic Window cookies are so pretty on a plate and they taste pretty yummy too. This recipe is a lot of fun to make with your children. You can use these cookies to decorate your tree or just eat them of coarse! This an egg free version.
Ingredients:
3 cups sifted flour
1/2 teaspoon baking soda
1/2 teaspoon salt
1 cup brown sugar
1 cup butter
1/3 cup honey
1 teaspoon Watkins Lemon Extract
1/4 cup water
Bright colored hard candies (crushed)
Cookie cutters
Directions: Cream the butter, sugar and honey in a large bowl and add extract and water, beat until smooth.  Combine the salt, baking soda and sifted flour in a large bowl.  Add butter mixture to flour mixture and knead the dough a little with your hands.  Wrap up roll in cling film and place in freezer for approximately 20 to 30 minutes.
While the dough is chilling unwrap a selection of round hard candies and set aside.
Once the dough is ready roll it on a lightly floured surface and cut out shapes using cookie cutters.  Using the tip of a knife or a small cookie cutter, cut out the center of the cookie to make a window for the candy.  If you're cookie is meant to be an ornament make a hole at the top using a straw.
Bake at 350F for approximately 6 to 8 minutes or until lightly golden, remove from oven.  Place the crushed hard candy in the center of cookie, mixing colors as desired and bake for another minute or so just until the candy slightly starts to bubble.  Remove from oven and allow to cool completely before displaying or eating.
Tips:
To crush candy, place in heavy plastic bag and tap lightly with rolling pin.
Cover cookie sheet with aluminum foil or parchment paper.