Vegan Oatmeal Cranberry Cookies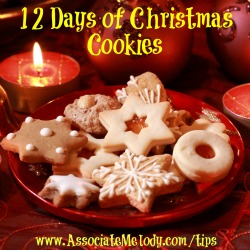 For day three of our twelve days of Christmas cookies we have these delicious spicy, oatmeal cranberry cookies. They are vegan, dairy free and egg-free.
Oatmeal cookies are a cookie jar staple year round, dried cranberries make them perfect for the holidays.

Ingredients:
3/4 cup vegan margarine
3/4 cup brown sugar
1/3 cup sugar
1/2 cup soy milk
1 cup unbleached all-purpose flour
1/2 teaspoon baking soda
1/4 teaspoon Watkins ground ginger
1/4 teaspoon Watkins cloves
1 teaspoon Watkins cinnamon
1/4 teaspoon Watkins nutmeg
3 cups quick-cooking rolled oats
1 cup dried cranberries
1 teaspoon Watkins vanilla
Directions: Preheat oven to 350 degrees Fahrenheit.
With an electric mixer, cream the margarine and sugars until light and fluffy. Beat in vanilla and soy milk and blend thoroughly.
In a separate bowl, combine the flour with the baking soda and spices, stir into the margarine mixture. Stir in the oats and cranberries and mix well.
Drop spoonfuls of cookie dough onto a baking sheet and bake for about 10 -15 minutes.
Are you a fan of oatmeal cookies?