Shortbread Cookies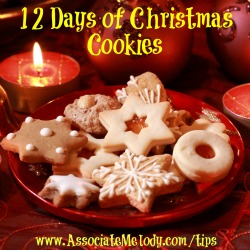 It's the last day of twelve days of Christmas cookies and I've saved the best for last, shortbread my personal favorites! Christmas just wouldn't be the same if we didn't have these shortbread cookies. They're sometimes called melting moments because they are so buttery and tender they practically melt in your mouth.
My mother always pressed 1/2 a red or green glace cherry in the center of the cookie before baking. I preferred the cookies with the red cherry although they both really do taste the same and I always ate the cherry last.
Ingredients:
1 cup butter, softened
1/2 cup icing sugar
1 & 1/2 cups all purpose flour
1/2 cup cornstarch
Mix all ingredients together well. Roll dough into 1 inch balls, place on an ungreased cookie sheet, press with a fork or glass. Bake at 325 degrees F for 12 to 15 minutes. Cookies should be set but with only a hint of turning golden brown.
Optional garnishes, press 1/2 a glace (candied) cherry or a pecan half in the center of the cookie before baking. Or sprinkle with a little festive colored sugar before baking.
Our grandson helped me bake the shortbread shown in the photo last week. While they might not be as pretty as I usually make them, they are filled with love and pride.
No Comments Yet.