Summer Skin Care Essentials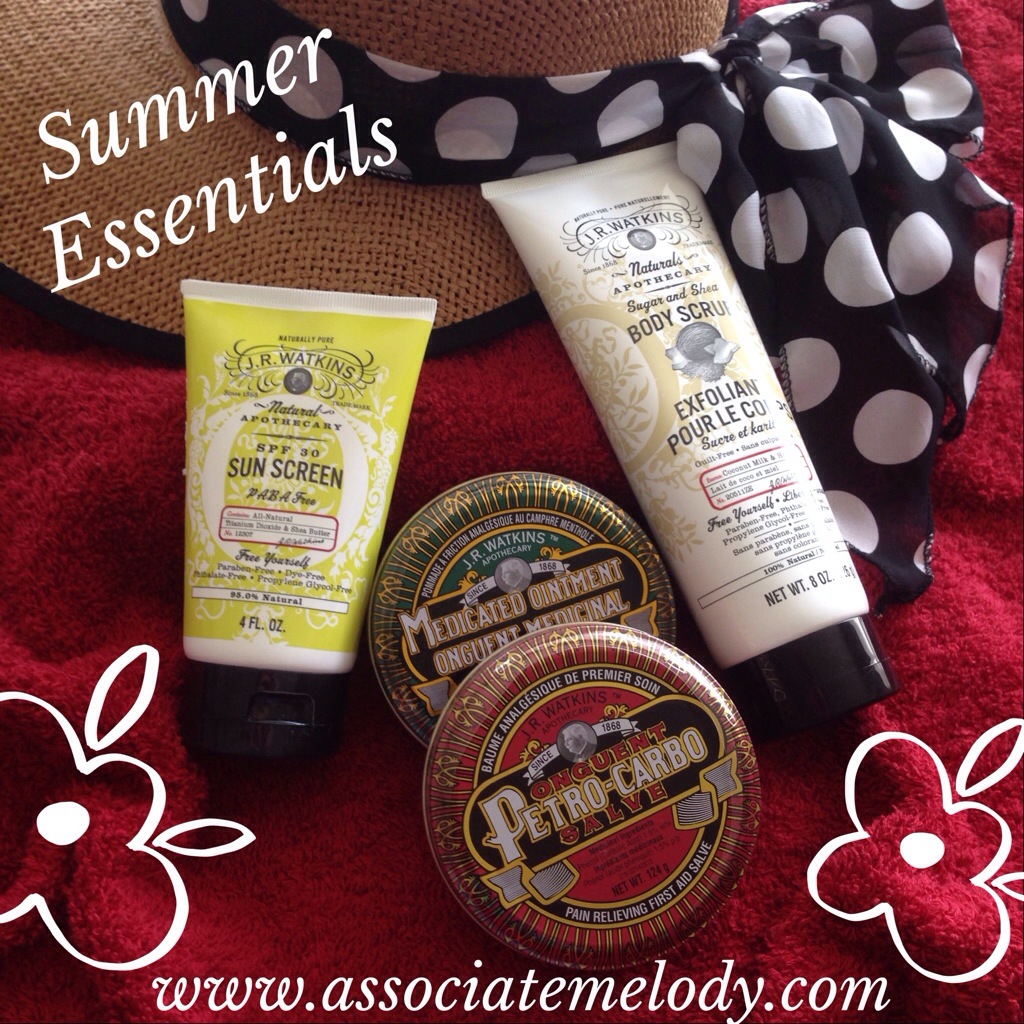 What are your summer skin care essentials? By now we probably all know that taking care of your skin in the summer and year-round is important. It goes beyond the basics of cleansing and moisturizing as we need to protect it from the sun plus we get the occasional cut, scrape, bug bite, rash and whatnot.
We often spend more time outdoors and our skin is exposed to more sun, heat and wind. Did you know that the skin is the largest organ of the body? It happens to be an amazing covering for the outside of the body for protecting other organs within. The skin allows oxygen and other nutrients to be absorbed while preventing harmful substances from entering. It also excretes waste products that are harmful to the body.
Sunscreen is a must to protect your skin from harmful UV rays. It's the most effective way in which to shield your skin from the sun's rays. When ever you are going outdoors, gardening, sunbathing or enjoying other activities remember to apply sunscreen 15 minutes before you venture out. Be sure to pay extra attention to the most sensitive parts of your body such as your face, shoulders, chest, neck, and back of your legs as these areas are most vulnerable. Use SPF 30 sun block and apply it every 2 to 2 1/2 hours and/or after swimming or exercising. Choose a PABA-free sunscreen, look for one made with titanium dioxide and natural ingredients. Whether at the beach or sunbathing in your backyard pool, try to stay out of the sun when the rays are most intense, between the hours of 11 am to 3 pm.
When you are out about during the day, wear a brimmed hat, it protects the sensitive skin of your face from not only the sun but also from wind damage. Wear light colored clothing to cover your arms and legs. Don't forget to wear sunglasses to help protect your eyes from the sun too. (I often forget!)
What if you get a sunburn, windburn, chapped skin, rash or insect bite?  Our Petro Carbo Salve or Menthol Camphor ointment to the rescue, either one of these old time remedies will sooth it and may help speed healing.
For glowing skin, exfoliate to remove dead skin cells and increase circulation. Use a sugar scrub once a week to remove old dead skin from your body and face. Exfoliation also prevents pores from being clogged, resulting in blemishes. I love our Shea butter and sugar scrubs. They leave my skin silky soft, smooth and moisturized without having to use any other products.
The summer heat can dry out your skin. After a long day outside, bathe and then moisturize your skin so that it can stay supple even while you sleep. Use a light one such as Watkins body oil mist (it's heavenly) to prevent clogging your pores.
Of course we wouldn't go with out deodorant in the summer heat! This is my favorite deodorant, I love this and so do my Consultants.
Last but not least, its essential to drink plenty of water in the summer and year round. The majority of our cells are composed of water. Without it, the body simply cannot function. Each day, we lose water through sweat, respiration and urination and it must be replenished. Remember, when you feel thirsty, you are already in the process of becoming dehydrated.
These products are ones I couldn't live without. To order the Watkins products shown and other delightful, natural skin care products please visit my JRWatkins store, or call me toll free 1-866-452-6948 for personal service.
What are your favorite summer skin care essentials? Comment below, we'd love to her about them!
No Comments Yet.