Top Ten Most Popular Recipes

Some of my readers have been asking which are my most popular recipes? I'm excited to share my top ten recipes with you.  It is not a surprise that some of my most popular recipes are desserts. Who doesn't like a sweet treat now and then? Pie, cake, cheesecake, yum! You'll also discover two of Watkins much loved and requested salad seasoning recipes made the top five list.  I've got happy people because they were begging me for these seasonings. Last but not least, in the top ten recipe list are some delicious beverages like flavored coffees and hot chocolate. Hello and thanks to all my fellow coffee lovers!
The majority of my recipes feature ingredients such as extracts and spices from the Watkins company. This is because first of all, I'm an Independent Watkins Consultant and second the quality and value are exceptional. I use Watkins myself and can recommend them with the utmost confidence.  (FYI: If you purchase through any of my links I'll earn a small commission from your order. And you'll make me happy!)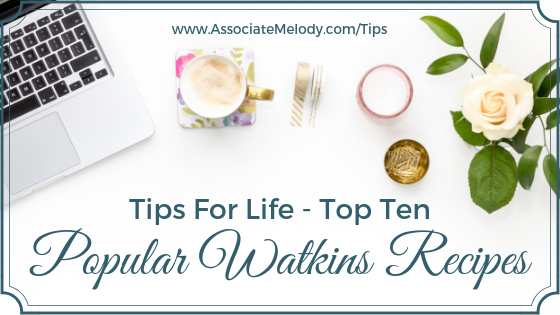 #1. Instant Pot Mini Cheesecakes In Jars
These mini cheesecakes are super delicious and easy to make. This recipe has been shared by the awesome people in the Instant Pot communities so I have them to thank for its popularity. I really need to get some more Instant Pot recipes published.
Pressure Cooker Cheesecake in Jars
#2. Watkins Five Flavor Cake with Six-Flavor Glaze
This 5 flavor pound cake recipe is a Watkins classic and has been popular for years.
Five Flavor Cake With Six Flavor Glaze
#3. Watkins Famous Potato Salad Seasoning Recipe
People were begging for this seasoning. If you haven't tried it, you should. It makes the best tasting potato salad ever.
Watkins Secret Potato Salad Seasoning Recipe
#4. Homemade Pumpkin Pie
Pumpkin pie is a must for Thanksgiving. It's not hard to make pumpkin pie from scratch, this is my favorite recipe.
Homemade Pumpkin Pie
#5. Watkins Coleslaw Seasoning Recipe
Add this seasoning to shredded cabbage for a quick, easy and delicious coleslaw!
Watkins Coleslaw Seasoning
#6. DIY Gourmet Flavored Coffee
I love vanilla coffee, hazelnut coffee, and all the coffee flavors. If you're a fan of gourmet flavored coffee you need to check out this recipe. It couldn't be simpler to make it yourself. No sugar or artificial creamers required.
Homemade Gourmet Flavored Coffee
#7. Mashed Potato Martini Bar.
During one of my Watkins trips, we were treated to a mashed potato martini bar. What's that? Mashed potatoes served in a martini glass (fancy) with every type of topping you can imagine.  It's such a great idea for entertaining because everything can be made ahead.
Mashed Potato Martini Bar
#8. Apple Pie Recipe And Tips
A classic old-fashioned apple pie recipe and loads of tips to help you bake the best pie ever.
Apple Pie Secrets
#9. DIY Pumpkin Spice Latte
Pumpkin spice fans rejoice, you can make pumpkin spice latte yourself!
Homemade Pumpkin Spice Latte
#10. How To Make Hot Chocolate from Scratch.
Last but not least a homemade hot chocolate recipe just like my Mom used to make.
Homemade Hot Chocolate
When a recipe is popular it using means it's tried and true. Watch for future top ten recipe posts as more get published.
I'd love to hear from you, let us know which of these top ten recipes you'd like to try?
No Comments Yet.