What to Make With Pumpkin
A family trip to your local pumpkin patch can fill an entire day with fun activities along with pumpkin picking. But then, are you stuck for ideas on what to make with pumpkin?
There are endless meals and desserts you can make with the versatile pumpkin. Everything from savory soups, stews, and side dishes to muffins, pies, cakes, and other baked goods. Pumpkin is a member of the squash family and often the two can be substituted in recipes.
Here's some inspiration for what to do with pumpkin and I'll be adding more recipes as time goes by.
What To Make With Pumpkin
For the main course try this hearty Autumn Beef Stew made with pumpkin.
Autumn Beef Stew
When we think of pumpkin, pumpkin pie comes to mind! Check out these recipes for a traditional or a low-fat pumpkin pie, plus how to make your own pumpkin pie spice. Or try the mini pumpkin pie recipe just below.
Homemade Pumpkin Pie
Mini Pumpkin Pies
Do you love pumpkin spice latte? For coffee lovers try this homemade pumpkin spice latte recipe.
Homemade Pumpkin Spice Latte
Looking for a fancy dessert?  Try this delightful Pumpkin Spice Creme Brulee!
Pumpkin Spice Creme Brulee
Snack on Spicy Roasted Pumpkin Seeds, they're so good!
Spicy Roasted Pumpkin Seeds
What's your favorite thing to make with pumpkin? We'd love it if you'd share in the comments!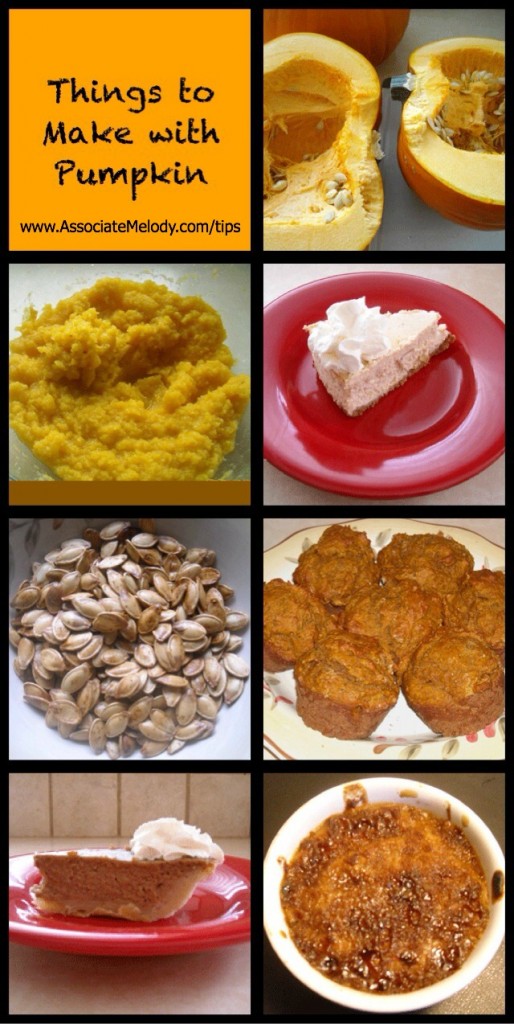 No Comments Yet.