Butterscotch Shortbread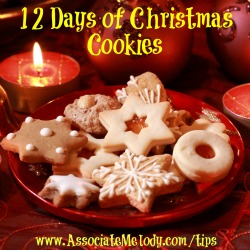 You just couldn't have 12 days of Christmas cookies with out a shortbread cookie recipe or two! These butterscotch shortbread cookies have a unique flavor as they are made with brown sugar. They'll make a wonderful addition to your holiday baking.
Ingredients:
1 cup butter, softened
1/2 cup packed brown sugar
1/4 cup granulated sugar
2 & 1/4 cups all-purpose flour
Directions: Preheat oven to 300º. Beat butter and sugars in large bowl with electric mixer on medium speed, or mix with wooden spoon. Stir in flour. Dough will be dry and crumbly; use hands to mix completely.
Roll dough into rectangle, 15 by 7 1/2 inches, on lightly floured surface. Cut into 1 and  a 1/2-inch squares. Place about 1 inch apart on an ungreased cookie sheet. Bake about 25 minutes or until set. Shortbread cookies brown very little, and their shape does not change. Remove from cookie sheet to wire rack to cool.
Have you ever made brown sugar shortbread?