Nutmeg Logs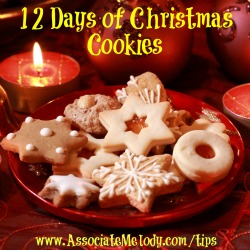 These nutmeg logs are uniquely flavored with this traditional Christmas spice and frosted with rum flavored icing. A perfect holiday match! Can you believe this is day nine of the 12 days of Christmas cookies series?
Nutmeg always reminds me of eggnog.
Ingredients:
1 cup butter, softened
3/4 cup sugar
1 egg
2 teaspoon Watkins Vanilla Extract
3 cups all purpose flour
1 teaspoon Watkins Nutmeg
1/4 teaspoon salt
Directions: In a large bowl, cream the butter and sugar until light and fluffy.  Beat in egg and vanilla.  Combine the flour, nutmeg and salt; gradually add to creamed mixture and mix well.
Divide dough into 14 pieces.  Shape each portion into a 12 x 1/2 inch thick rope.  Cut ropes into 2 in pieces.  Place 2 inches apart on greased baking sheets.  Bake at 350 degrees for 9 to 12 minutes or until set and bottoms are lightly browned.  Cool for 1 minute before removing to wire racks to cool completely.
Frosting
1/3 cup butter, softened
2 cups confectioners' sugar
1 teaspoon Watkins Rum Extract
1 teaspoon Watkins Vanilla Extract
2 to 3 tablespoon half and half cream
Watkins nutmeg for garnish
Directions for frosting: In a small bowl, beat butter until fluffy.  Add the confectioners' sugar and extracts; beat until blended.  Beat in enough cream to achieve desired consistency.  Frost cookies.  Sprinkle with nutmeg.  Store in an airtight container in the refrigerator.  Yield: 7 dozen
Does nutmeg remind you of eggnog too?