Holiday Fruit Drops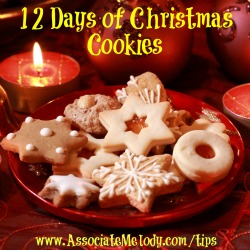 Fruit cake is a traditional Christmas treat for many people, these soft holiday fruit drops taste similar but are much quicker and easier to make! This recipe is a healthier, low fat version, made with yogurt and whole wheat flour. You can substitute dried fruit of your choice for the mixed glace (candied) fruit.
Can you believe we are on day eight of the twelve day of Christmas cookies already?
Ingredients: 3/4 cup packed brown sugar
1/2 cup plain yogurt
1/4 cup butter, softened
1 tablespoon Watkins grated orange peel
1/2 teaspoon Watkins vanilla extract
1 teaspoon Watkins Rum extract
1 egg
1 1/2 cups whole wheat flour
1/2 teaspoon baking soda
1/4 teaspoon baking powder
1 cup mixed glace fruits (candied pineapple, cherries, peel), diced
1/4 cup raisins
Directions: Preheat the oven to 375 degrees fahrenheit. Beat brown sugar, yogurt, butter, orange peel, extracts and egg in large bowl with electric mixer on medium speed, or mix with a wooden spoon. Stir in flour, baking soda and baking powder. Stir in glace fruit and raisins.
Drop dough by rounded tablespoonfuls about 2 inches apart onto a greased cookie sheet. Bake 11 to 13 minutes or until light brown. Remove cookies from cookie sheet to a wire rack to cool. Store in an airtight container. These soft drop cookies taste better the next day!
Do tell, do you like fruit cake?