Snickerdoodles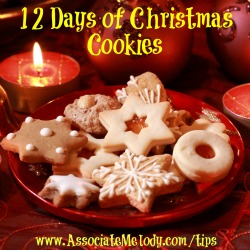 Snickerdoodles are delicious cinnamon cookies with a funny name! They are a great addition to your holiday baking so I'm including them in day four of our twelve day of Christmas cookies.
Be sure to check out all the great cookie recipes featured this month!
Ingredients:
1 cups of butter
1 1/2 cup of sugar
2 eggs
2 3/4 cups of flour
2 teaspoons of cream of tartar
1 teaspoon of baking soda
1/2 teaspoon of salt
1/4 cup sugar mixed with 1 teaspoon Watkins cinnamon
Directions:  In a large bowl, cream the butter, sugar, and eggs together. Stir in the flour, cream of tartar, baking soda, and salt. Refrigerate the dough for an hour or two to chill.
Preheat the oven to 350 degrees. Roll the dough into 1-inch balls. Roll each ball in the cinnamon and sugar mixture. Place the rolled balls two inches apart on an ungreased cookie sheet. Bake the cookies for 10 to 12 minutes.
Store cooled cookies in an airtight container.
Do tell, what are your favorite holiday cookies?